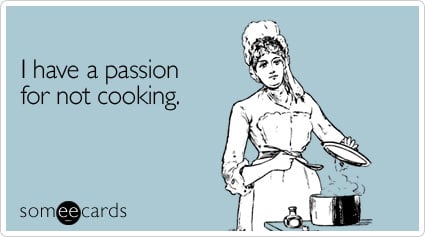 I don't like cooking; I really like to think about cooking.
If I were a different person, say, a person who made coconut layer cakes I might make a coconut layer cake, but I am a defroster. A packet-opener. A dumper into pots of canned things. I warm things up, I mix things, I toss a mean salad. That's what my husband says.
When I read cookbooks, it's the same way that I read Architectural Digest; with no intention ever of fluffing throw pillows, or installing art from Oceania, or purchasing a pecan-wood sleigh bed. I read merely to live for a moment in another world. A world where there are heirloom acorn-fed pigs, and alpacas, and roast squab, and beets like jewels, and lardoons, and lardo, and the people who live in this world care about foams, and sous-vide, and the stable oven temperatures, and whatnot, like making a watermelon into a watermelon-flavored dust.
It all sounds so interesting. But would I do it? Hell no. It's ridiculous the idea of an ice cream machine in my home, and the word "gelato." This is why we have Italy, people, and professionals. So we can go there.
I won't even make chocolate chip cookies. Chocolate chip cookies are beyond me, and Lord knows, I have tried. Mine are either flat as hockey pucks, or they gum up like the Andes, into craggy mountainous peaks and either way, they're hard as rocks. "These aren't as good as Trader Joe's, Mommy," the kids say. "Kids," I say, "that's because Mommy made them from scratch, with her abundant love." "Oh," they say. "Well, don't do that again. Can we just get the good ones?"
I have what I call "The Julia." Julia Child's Mastering The Art of French Cooking Volumes 1 and 2.  If I want a laugh I read the chapter on croissants. There is a two page illustration of the method you must use to combine the flour and butter into thin feuille that will trap steam in the oven and and rise to heaven, crisp and golden-brown. It takes like a bazillionteen hours. Um, hello? In a half hour I can drive downtown to the french bakery in Baltimore and buy croissants.
Ditto rotisserie chicken. Thank you Cooks Illustrated for rating the home-rotisserie options that are out there, but in no uncertain terms will I be rotating chicken on a spit in my kitchen. Likewise, I will not fry beignets though Nigella Lawson does and I do think she is gorgeous, and generous in her proportions. No dusting sugar for me. If I want a beignet, I tell myself, "Elizabeth, stop it, what's wrong with an old fashioned?" and then I am fine again, and so will you be.
Elizabeth Bastos

Elizabeth Bastos is a WAHM (pronounced "wham!") of two in the Baltimore suburbs. Her work has appeared on McSweeney's Internet Tendency, The Big Jewel, and the Book Bench blog of the New Yorker magazine. When she is not writing, she is eating something made with whipped cream. What could that be? You guessed it. Whipped cream. Straight up. She blogs about all things cheesy, also parenting, at http://www.goodybastos.blogspot.com/.